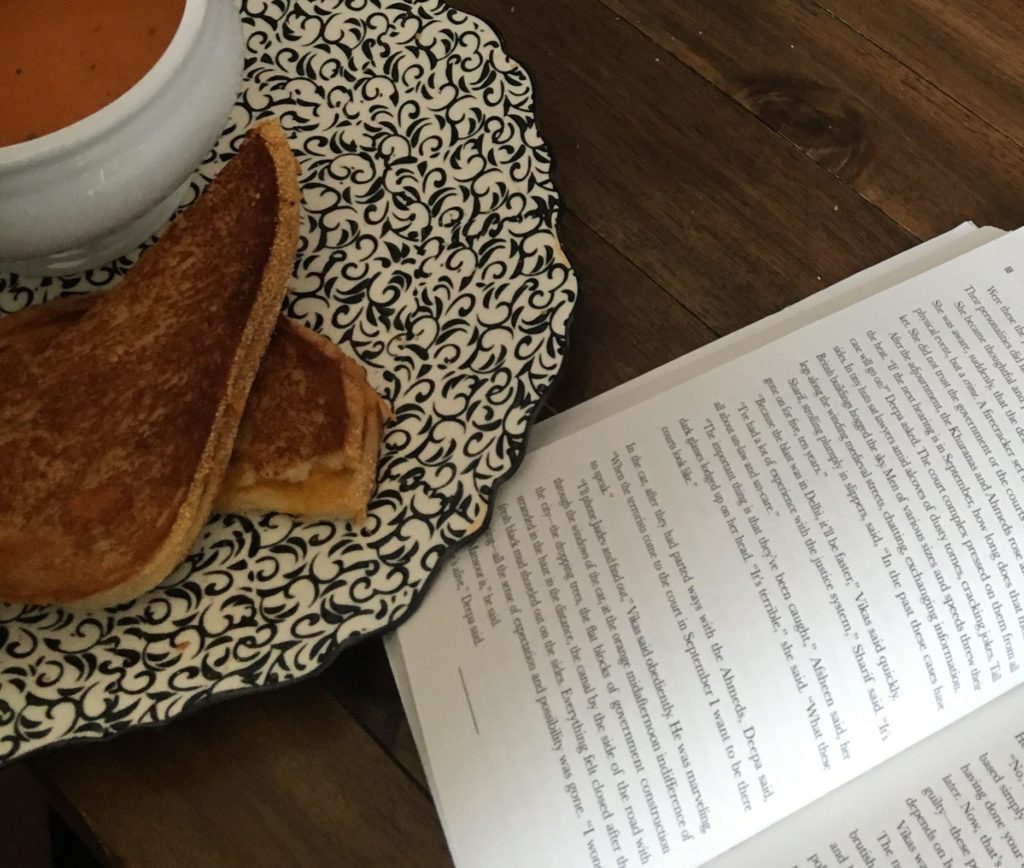 I had the perfect Sunday. I mean perfect perfect perfect. An insanely hard yoga class (the kind that makes me wonder if the teacher is trying to kill me), a long lone grocery store wandering (where I ran into a lovely old friend) from which I returned with 10 beautiful tomatoes per the instructions of my dear younger son who has been wanting to make tomato soup from scratch for a few weeks. I hate tomato soup but wanted him to see tomatoes peel: the ways their skins split as they bounce in the boiling water, how delicate and otherworldly they become. Have you ever peeled tomatoes or peaches by blanching them? It's terribly satisfying.
So we made soup, had a reading lunch, listened to this ridiculously awesome playlist on Spotify and moved the dining table to dance. My older son had a friend over and I offered them free/unsolicited dating-on-a-budget advice (there's free coffee at the bank, and samples at costco), which they rejected (but shared on social media, so it can't have been THAT unwelcome). I did SO MANY DISHES. Unloaded and reloaded the dishwasher, washed pots and pans and felt completely, completely blissful. A few years ago when working on edits for my book, my editor (who had spent some days with me) said "You sort of hum through life–put more of that in." It's been hard lately, though. All this wretchedness and brokenness in the world. And I just feel tired, like my legs are weighted, like what's the damn point? Of any of it?
Some really dear people have been making it their business to hold me through it–late night phone calls and invitations and breakfasts and cheesecake and windshields cleared of snow. A few days ago, a lovely person actually rode the metro all the way with me, then jumped into a train heading the other way and headed home. All this love, and it makes me want to cry more, it's so sweet and tender and fragile and I feel completely undeserving of it. But some of the hum returned to me a little this weekend.
Last week I read Ross Gay's incredible book of poetry Catalog of Unabashed Gratitude from beginning to end in two days or so. I read it while walking to and from the metro, while walking around the hospital between things, I read it while waiting in the lines one must wait in. It's so beautiful, so visceral and lush and focused and gracious. Order it, because I'm not lending anyone my copy.
And then, after considering this beauty and grace, and feeling expanded by it, I woke on Sunday to Maria Popova's lovely tribute to her friend the author Amy Krouse Rosenthal, who passed away last week. Here's Rosenthal (via Brain Pickings) from her book Encyclopedia of an Ordinary Life (already ordered to read on Kindle, the book is out of print and used copies are really expensive):
RETURNING TO LIFE AFTER BEING DEAD

When I am feeling dreary, annoyed, and generally unimpressed by life, I imagine what it would be like to come back to this world for just a day after having been dead. I imagine how sentimental I would feel about the very things I once found stupid, hateful, or mundane. Oh, there's a light switch! I haven't seen a light switch in so long! I didn't realize how much I missed light switches! Oh! Oh! And look — the stairs up to our front porch are still completely cracked! Hello cracks! Let me get a good look at you. And there's my neighbor, standing there, fantastically alive, just the same, still punctuating her sentences with you know what I'm saying? Why did that bother me? It's so… endearing.
Ah!!! I read this before finishing my coffee, still in the swirl of blankets, a little snoring nightmare-haver's arm slung over me. And it framed my Sunday as perfect, even with its imperfections.
Here's the incredible Ross Gay reading the title poem. I've copied and pasted the first stanza of the poem below, and linked to the poem on Poetry Foundation, but please, please, please, listen to it. Let some of the hum return to your days if it will be convinced to come. Thank it all: the light switches, the whirring blades of the fan, the rubber soles of your shoes, the car that didn't hit you, the person who let you pass, the one who blessed you when you sneezed, the sweet flesh of fruit, the worms that turned the soil around their roots, the indoor plumbing, the poems we read, the sun in your eyes, the ease of the visor slipping down to protect you from the glare.
Friends, will you bear with me today,
for I have awakened
from a dream in which a robin
made with its shabby wings a kind of veil
behind which it shimmied and stomped something from the south
of Spain, its breast aflare,
looking me dead in the eye
from the branch that grew into my window,
coochie-cooing my chin,
the bird shuffling its little talons left, then right,
while the leaves bristled
against the plaster wall, two of them drifting
onto my blanket while the bird
opened and closed its wings like a matador
giving up on murder,
jutting its beak, turning a circle,
and flashing, again,
the ruddy bombast of its breast
by which I knew upon waking
it was telling me
in no uncertain terms
to bellow forth the tubas and sousaphones,
the whole rusty brass band of gratitude
not quite dormant in my belly—
it said so in a human voice,
"Bellow forth"—
and who among us could ignore such odd
and precise counsel?