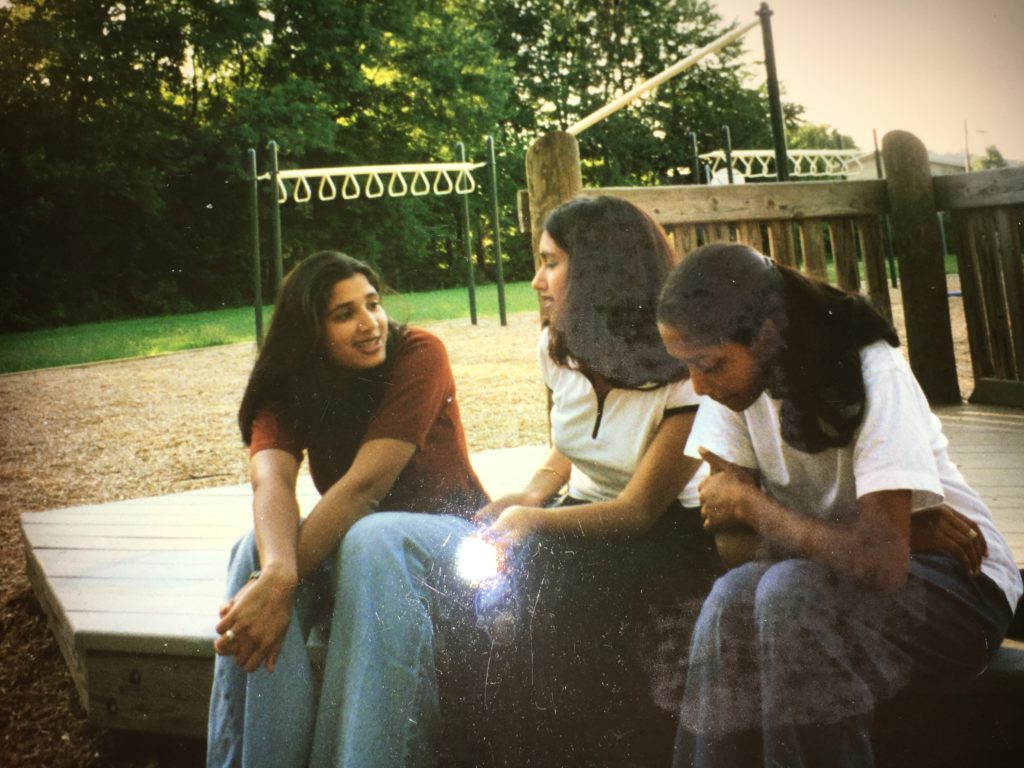 In every episode of the podcast On Being, Krista Tippet asks after her guests' spiritual upbringing. It's always fascinating to hear how various people raise their children and how those children grow up to be the sort of thinkers and world-changers who end up on On Being. It appears there is no definite right or wrong way of doing it. Which is frankly, a relief. When I was ten or eleven, my older cousins and sisters underwent a religious transformation. Unlike the more classic teenage rebellion of smoking and sneaking out that we younger cousins underwent five years later, this first wave of second generation immigrant kids deviated by scoffing at the loose Southeast Asian interpretation of Islam our parents had raised us in. Our Urdu and Bangla-inflected pronunciation of Arabic was corrected to traditional Arabic. The older siblings considered our parents not religious enough, quoted Hadith to one another, drove us younger kids to Sunday School and youth group meetings. They tried to intercede when it looked like someone might have a boyfriend or girlfriend. One of them proposed stopping birthday celebrations (this thankfully never took hold), another decided that the only music that was not sinful to listen to was Country.
This was the Nineties. Imagine us, brown-skinned and long-sleeved, driving around the beltway all summer listening to "Prop me up by the jukebox if I die…"  (refresher below) They prayed in formation and laughed at dorky clean jokes and interpreted and reinterpreted the Quran to suit the line they walked between raging hormones and God-fearing chastity. They were holier than everyone else. It was really annoying and not a lot of fun. Two decades later, they are comfortable in their individual understandings of life and afterlife, give to charity, are involved in community service, and are well-loved, tolerant neighbors in American suburbs, married to the other dorky religious kids they made excuses to be *nearly* alone with in youth group meetings during that time. The rest of us do what we like, and it is mostly fine. It is more fine with each passing year. This year I even played Drake at our party on Eid (though I was asked to turn it off eventually). It's beautiful, this family of mine. But their take on religion has made it nearly off-limits for me. Sometimes I feel tempted to join them in ritual of prayer–what a comfort it is, to move in unison that way–but then I think, "If I do this, they'll get too excited. Or they'll think I'm making fun of them." The problem with certain people deciding how it has to be is that they then take control of the narrative, and leave little space for others.
Sometimes when I take a poem that makes a mention of God into a group, it polarizes the room. People who are religious might feel like the poem isn't respectful enough. People who aren't feel inflamed and excluded. My friend Rania and I were having a conversation about it last summer when she came down from Philly for a visit. She brought along a book called I Asked For Wonder by Abraham Joshua Heschel, a Jewish Theologian who wrote the book at the end of his life, as he faced his own mortality. In it he writes, "I didn't ask for success, I asked for wonder, and I received it." I am not Jewish, and neither is Rania. This did not stop us from sighing at his words, at feeling expansion and growth at his ideas. Given my upbringing (which I maybe made sound a little rosier than it actually was out of respect for my older siblings and cousins, whose rigidity cost me a lot during my adolescence), I used to brace at the mention of God until, as I grew older and encountered more wise people and difficult life experiences, I realized that I couldn't afford to discard wisdom so easily. I take it where I can get it. When my sons were small(er) I bought them the book What is God? I believe an illustration in it inspired the question from my younger son which inspired the title of my book. In it the author asserts that God is that feeling you get when you look at a sky full of stars or stand at the top of a mountain. Yes.
We can do what Rania called "intensive translation" and superimpose the definition that works best for us to benefit from beauty we might have otherwise discarded.
My favorite song in the world is Adhan. How it rang from one mosque after the other during my childhood summers in Dhaka, how my one cousin's recitation is so beautiful it makes your heart hurt. This poem, from Zeina Hashem Beck's 3Arabi Song, made me ache for those summers. For the silhouette of my grandmother praying. It costs $6–order it, believe me!*
Your prompt is from Krista Tippet: Tell me about your spiritual upbringing. 8 minutes on that.
Then the real question: Who was God in your childhood home?
by Zeina Hashem Beck
There is something about the adhan at dawn, how it lifts
your head from your pillow; how it pulls
you from sleep like a bucket from a dark
well, heavy with the same wish to fall;
how when the sky is still full of shadows, it calls
that prayer is better than sleep
(and there's something Shakespearean
about it, and something modern);
how the voices rise now
from different speakers in different mosques—
Allahu Akbar, Allahu Akbar, an unsynchronized
Greek chorus that glazes the city, reaches
the gutters, the babies in their cots, the thieves, repeats
Prayer is better than sleep, as if
The world is beautiful and full of sunrises, prayer
is better than sleep, so you grip
your lover's arm, the book on your bedside table,
your cigarette pack, your blanket, as if
Yes, I heard you. Hallelujah. Amen. Amen.
*I know it seems like I have a book ordering illness, and while that might be the case, I also never steer you wrong and you should really order this book.