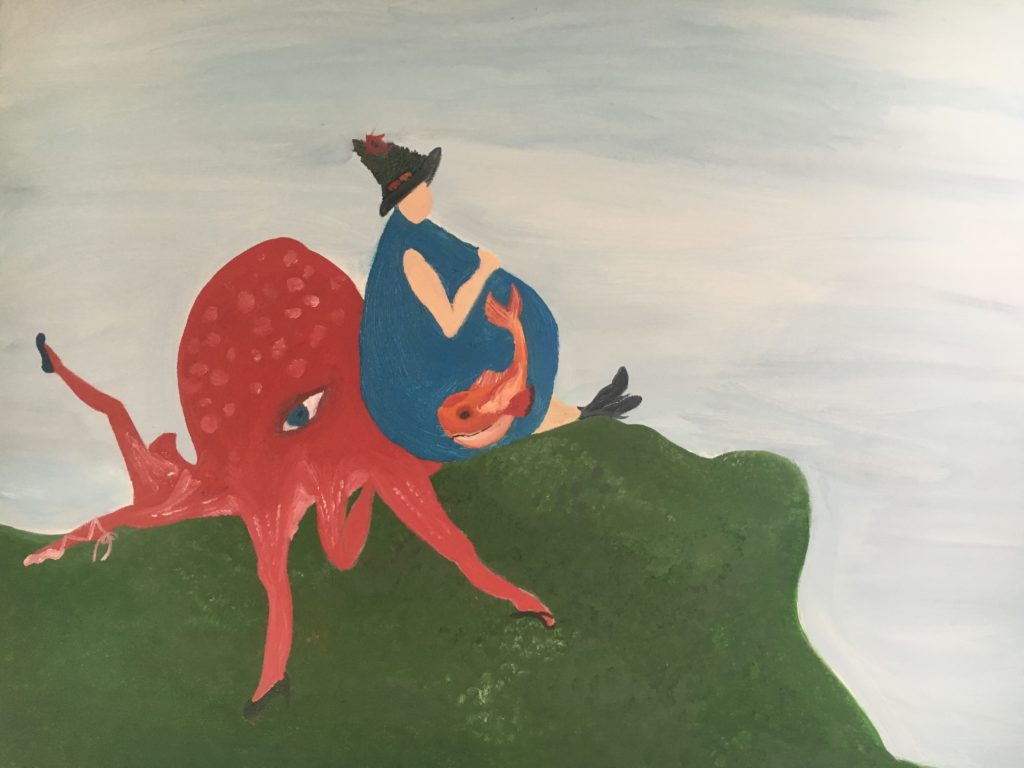 Before we get to the post, I have to tell you about some really, really fun things coming up:
Friday, September 23rd at 7 pm, at Workhouse Arts Center, I'm hosting an open mic. There are some surprises in store. You should come and either a) perform something (anything) or b) cheer loudly and eat some free cookies.
Saturday, September 24th I'm performing with the incredible Amelia Bane in Baltimore. That's going to be a super fun, super funny time. Check it out on the Events page.
The following post is a continuation of last week's post about Marshall Rosenberg's wonderful, practical, useful book, Non-Violent Communication, which breaks down constructive communication, involving simultaneously taking responsibility and cutting others (and maybe also ourselves) some slack, as we try to understand what we and others are really seeking from interpersonal encounters. One of the most fundamental statements in the book is this:
My belief is that, whenever we say something to another person, we are requesting something in return.
Holy shit. This definitely changes how I listen, and how I speak to others. When interacting with other people, Rosenberg says, knowing what response we seek when we choose to say something or behave in a certain way (or trying to help others figure out what response they want) can help avoid a lot of conflict and frustration. If we know what we want, we are more likely to articulate that and subsequently receive it.
Ever been in a meeting in which someone tells this long ass story you can't figure out how to respond to? Then other people start telling similar stories, none of them really leading anywhere, more about commiserating or self-congratulating, less about action and you came to the meeting to get some shit done or vote on something and instead you're seething inside about what the fuck does this have to do with anything? Right? But also…have you ever been the person telling the long-winded story? Be honest, of course you have. I certainly have been. What response were you looking for then? Sometimes I'm trying to be seen/related to as a person, because I believe things are better accomplished when people relate as complete humans rather than as job titles. Sometimes I want to assert my value, gain some credibility in the room (that's the self-congratulating thing). Sometimes I just need to be heard because it's been that kind of day. If I can think about that before I open my mouth, I can make the decision about what I'm going to say a lot better.
It may simply be an empathetic connection—a verbal or nonverbal acknowledgment…that our words have been understood. Or we may be requesting honesty: we wish to know the listener's honest reaction to our words. Or we may be requesting an action that we hope would fulfill our needs. The clearer we are on what we want back from the other person, the more likely it is that our needs will be met.
It sounds a whole lot easier than it is. There will be missteps. Moving our attention to our own needs can also help us to get a handle on our frustration with other people, which can keep us from boiling over. If an interaction is making you really out of control angry, look inside. What switch is being flipped? How come? What do you need? Is the person you're angry with even equipped to meet that need? Sometimes they aren't. Sometimes they just have to be tolerated, quietly, until you can think deeply about what you needed in that moment (so much work is done through hindsight) and find it.
In a world where we are often harshly judged for identifying and revealing our needs, doing so can be very frightening…
It's super scary. If you ask for something, someone might say no. They might know that they are withholding something you need or want. They might know that you are a person who *gasp* needs things from other people. That you are not a robot. That they have the upper hand in this one tiny instance. I hate that more than anything, believe me. Hate, hate, hate it. And then sometimes we're pissed at the person for "making" us so mad.
What others say and do may be the stimulus for, but never the cause of, our feelings. When someone communicates negatively, we have four options as to how to receive the message: (1) blame ourselves, (2) blame others, (3) sense our own feelings and needs, (4) sense the feelings and needs hidden in the other person's negative message.

In the course of developing emotional responsibility, most of us experience three stages: (1) "emotional slavery"–believing ourselves responsible for the feelings of others, (2) "the obnoxious stage" in which we refuse to admit to caring what anyone else feels or needs and (3) "emotional liberation" in which we accept full responsibility for our own feelings but not the feelings of others, while being aware that we can never meet our own needs at the expense of others.
As a listener, if I listen for what the person speaking might be looking for before I start fuming  and can maybe find a way to meet that need in some way, I might be able to get the room back on track toward the agreed upon reason for meeting. This comes directly back to what I was writing about last week—listening. Chinese philosopher Chuang-Tzu stated that true empathy requires listening with the whole being.
…it demands the emptiness of all the faculties. And when the faculties are empty, then the whole being listens. There is then a direct grasp of what is right there before you that can never be heard with the ear or understood with the mind.
This total listening is so hard. Because each of us has our own noise and sorrow rattling around in our heads. But if we practice being present in our interactions with other people, we can actually use those moments as a respite from our own noise.
What I think is so spectacular about NVC is how much it cuts the out bullshit and game playing and empowers us to be really openly intentional about what we're saying, what we're hearing and when we're confused. That's the whole thing.  We're not listing what we don't need–that's called complaining. That's really important to remember. And you can ask other people to clarify what they need as well.
Next week we have a really great workshop, with some dope musicians and the poet Mahogany L. Browne. The show will be at The Mansion at Strathmore on September 30th at 7 pm. You can register for that here. Tickets are free, but Ashy needs to know how much cheese to buy.
Here's Mahogany, performing Redbone Dances
And your prompt is from the opening lines of her poem, "if you ain't never seen your parents…" Some of our challenges around communication can be traced back to what we learned (or didn't learn) about conflict and love. Cut your self some slack, buddy.
Oh I love you so so so so so much. Just do the work. It'll get better. I promise.